Need a quotation?




Complete this form for a Quick Callback...
TRUSTED BY:
SANITIZING AND DISINFECTING SERVICES
Cleanserv as leading cleaning service provider is providing expert sanitizing and disinfecting services. The sanitization and disinfection services can be added to your normal cleaning services or can be provided as a stand-alone service.
Our cleaners will show up with hospital-grade disinfectant and sanitizing products as well as all their regular cleaning products.
Commercial sanitizing and disinfecting
Commercial companies as well as public organizations now have a responsibility to implement preventive hygienic practices to ensure the health and safety of all, whether it is staff members, clients, students, patients or visitors. These practices include but are not limited to
Disinfecting and sanitizing a surface will 'kill' 99.9% of the microscopic organisms therefore with our professional disinfectant services we can help contain and prevent the spread of harmful bacteria and viruses.Cleanserv's disinfection and sanitization ensures all high contact areas and surfaces in all shared spaces such as offices, schools, retail, medical and all other sectors are cleaned to ensure most if not all bacteria, viruses, and microorganisms are removed. High contact areas and surfaces include your door handles, light switches, office workspace, phones, kitchen appliances, taps, etc.
General Sanitizing and Disinfecting services
As we are currently experiencing a global pandemic which poses high risks and dangers of infectious virus spreading it has therefore become very important to sanitize and disinfect surfaces generally and regularly more than ever.
In commercial areas that provide essential services such as workplaces, supermarkets, pharmacies, food retailers they have high traffic and are most vulnerable to the spread of infection. As Cleanserv we pride ourselves on caring for the vulnerable and experience of working with these sectors closely to ensure the provision of a clean and safe environment through our sanitizing and disinfecting services.As an experienced cleaning service provider for high risk environments, Cleanserv is able to provide continuous innovation in cleaning and disinfection methods to help prevent and control the spread of contagious diseases. Our disinfection and sanitization services are conducted strictly according to regulatory and compliance standards and specifications.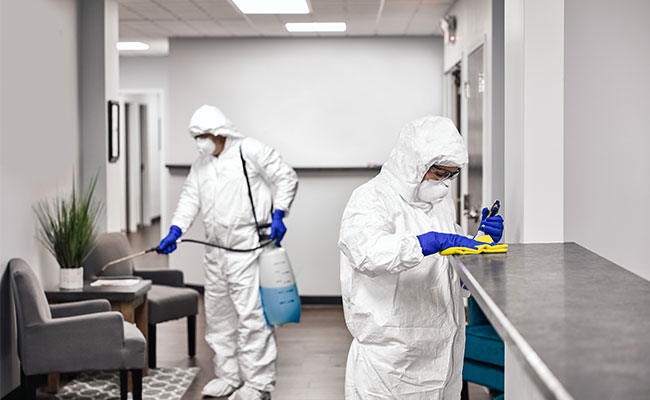 Sanitizing and Disinfecting Services FAQs
How Do l Book For Sanitizing and disinfecting Services  ?

Complete the contact form on top of the page and our team will call you and give you a quotation.
How Long Does A Sanitizing and Disinfection Service Take?

The time taken to disinfect an area or a building depends on the size and type of the building and treatment area, but your premises will be safe to use again 30 minutes after the service or as soon as the disinfection products are dry (whichever is the greater).
How Much Does A Sanitizing and Disinfecting Service Cost?

The cost varies according to the size of the building or area to be treated, the type of facility and the type of service required.

We'll need to carry out a survey of your premises first and discuss the service level that's right for you before being able to provide an estimate of the cost. 
How Often Should I Call For Sanitizing and Disinfecting Services?

Again, this depends on the type of business and what the building is used for. Buildings with large numbers of people visiting or that are more likely to have infected people bringing the virus into it (and other associated risks) will need more frequent treatments to ensure the safety of users.

Public organisations should have their properties disinfected before re-opening and further treatments will depend on local government guidance and requirements for public health. We follow these as a matter of course so that all our services comply fully with advice from local public health authorities.